On March 8th, in commemoration of International Women's Day, PNND joined together a dynamic group of women leaders to launch the PNND Gender, Peace and Security (GPS) program in the best way possible: through engaging in dialogue across generations and fields of expertise, addressing ways forward to tackle the most pressing security challenges of today.  
During the event, Ms Vanda Proskova (Vice-Chair, PragueVision Institute for Sustainable Security and PNND Program Officer on Gender, Peace and Security), presented the GPS program, which builds upon the work PNND has been doing on gender and nuclear disarmament since our establishment in 2003.
Ms Proskova introduced PNND's recent activities including the Women's Appeal for Human Security, public health, peace and sustainable development co-organized by PNND, World Future Council and the Women Legislators' Lobby in 2020, and the "Ensuring Participation of Women in Peace and Disarmament" chapter in Assuring Our Common Future Parliamentary Handbook released later the same year. Ms. Proskova further explained the gender approach of PNND as one with a dual focus: the first being on the gender inclusion in our program activities and positions of authority; and secondly, on the incorporation of different gender approaches to security in social and political systems.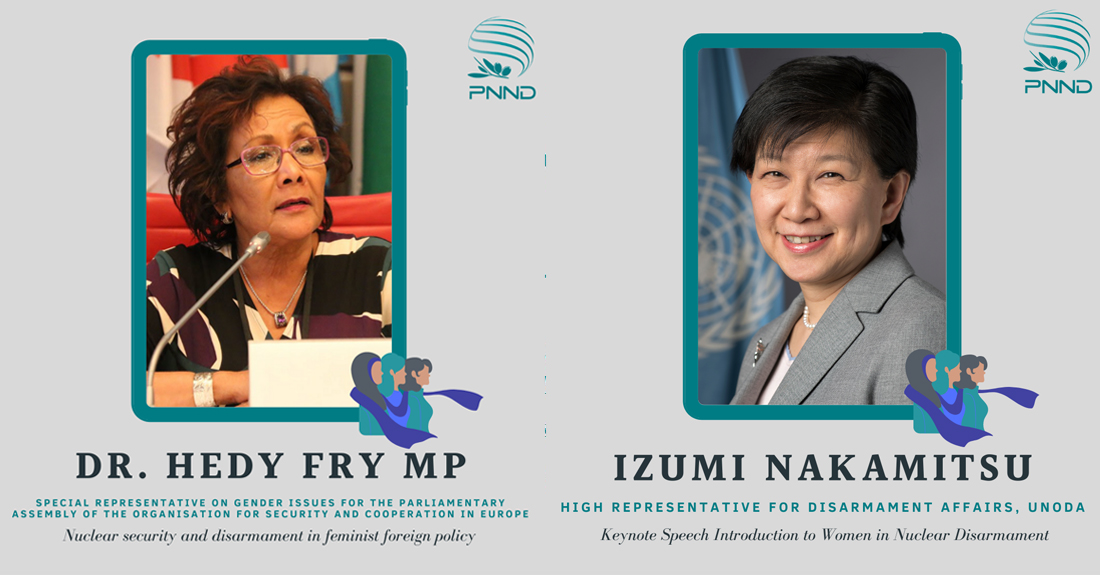 PNND was honoured to have Ms Izumi Nakamitsu, the UN Under-Secretary-General and High Representative for Disarmament Affairs, deliver the opening keynote by video message, in which she focused on the proven fact that peace processes involving women lead to better outcomes for all parties involved. The High-Level Representative further commended the tireless work of women who have been active in the field long before us, and highlighted the role of today's youth in all nuclear disarmament efforts. From Ms Nakamitsu's speech, it was clear that intergenerational cooperation and gender balance are needed to achieve our common goals, which elegantly introduced the event's premise. 
Enjoy the full event on our youtube or facebook, and you'll find the chat-box here and the separate video message from Ms Nakamitsu here. For those who would like a reading version, this is for you.
---
Panel 1: Nuclear Security and Disarmament in Feminist Foreign Policy
The first speaker, Dr. Hedy Fry, shared a powerful and inspiring talk to start off the first panel. Dr. Fry, who is from Canada, is the Special Representative on Gender Issues for the Parliamentary Assembly of the Organisation for Security and Cooperation in Europe (OSCE). In her presentation, Dr. Fry cited Helen Caldicott as her primary source of inspiration as a young woman to get involved in nuclear disarmament. Dr. Fry recalled Caldicott's words that sparked her interest in the field: "This is the worst pandemic. It is the worst medical problem the world will ever face. And that is nuclear war."
Dr. Fry further illuminated the connections between the nuclear disarmament field and gender by pointing out how the COVID-19 pandemic has exposed that women are much more vulnerable than once thought, thus emphasising the importance of a Feminist Foreign Policy. In 2017, Canada adopted a Feminist International Assistance Policy, which Dr. Fry commends, emphasising the importance of women having a seat at the table in such decision-making processes. 
"Women and men bring a 360 degree view of the problems and, therefore, a 360 degree view of the solutions"
Dr Hedy Fry MP, OSCE Parliamentary Assembly Special Representative for Gender Issues.
On top of being a strong gender equality advocate, Dr. Fry is passionate about youth empowerment, especially in the nuclear disarmament field. Dr. Fry stressed the irreparable damage a nuclear war would cause by stating that, "there would be no coming back from such destruction."
Dr. Hedy Fry's counterpart on the mini panel was Vanessa Lanteigne from Canada, who is the National Coordinator of Voice of Women (VOW). Vanessa highlighted the phenomenon where people tend to file the issues of nuclear abolition and nuclear disarmament in the back of their minds in folders labelled "things I need to care about when I can," thus depicting how a nuclear war is perceived as a non-imminent threat to our daily lives by the masses. Vanessa debunked such a perception by illustrating how the proliferation and development of nuclear weapons harms people well before a bomb is dropped, for example, due to the immense expenditure on weapons and militarization. 
Lanteigne views governmental budgets as moral documents. To put this into perspective, 689 million Canadian Dollars was spent on the F35 planes that held the bombs to make the aforementioned strikes possible, which came directly out of the Canadian taxpayers wallet, of which Vanessa stated she wanted nothing to do with. Adding another layer to this, Vanessa posed the question, "what about the lives of the women who are being bombed?" This is where a Feminist Foreign Policy perspective is essential. Vanessa also reminded the audience that nuclear disarmament is possible because it has been done before: since the end of the Cold War, global nuclear warheads have gone down from 70,000 to 13,000.
"If we want to have a feminist agenda, we must invest in an anti-war perspective and spend to improve on human security, diplomacy and transparency. We can recover better by promoting a culture of peace."
Vanessa Lanteigne, National Coordinator of Voice of Women Canada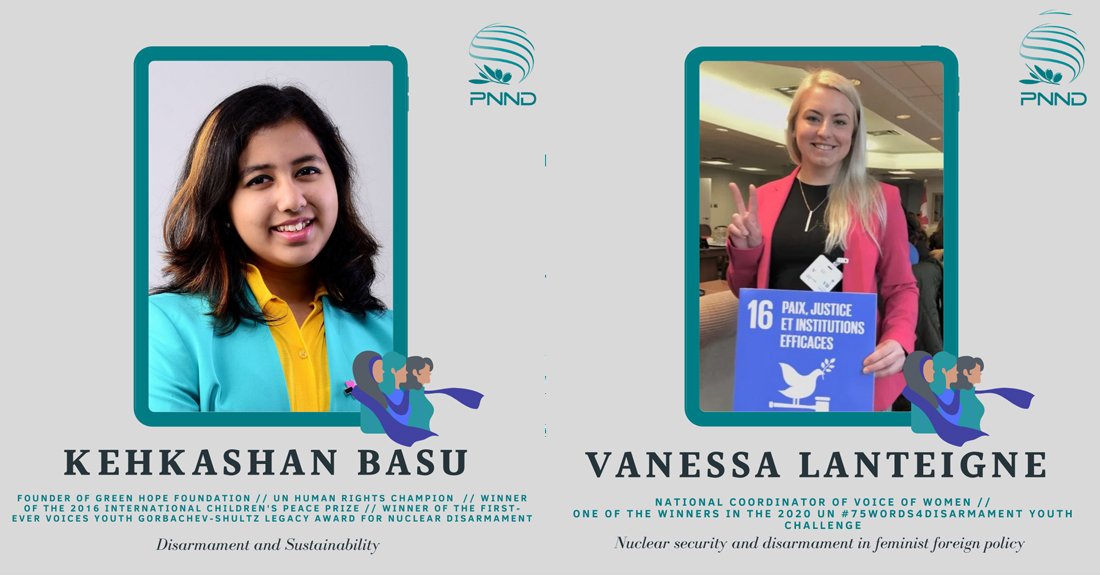 ---
Panel 2: Shifting Security Frameworks in Nuclear Armed States from Nuclear Deterrence to Common Security
The event's second panel started off with Baroness Sue Miller (UK), a PNND Co-President, Liberal Democrat member of the House of Lords and Vice-Chair of the All-Party Parliamentary Group on Global Security and Non-Proliferation. Baroness Miller turned to a story from her own life to address the 'stuckedness' of the deterrence-disarmament debate in the UK context, recounting her experience during the Women of Greenham Common protests in the early 1980s when thousands of women camped at the Royal Air Force base in Berkshire to protest against the government's decision to store US nuclear cruise missiles on UK soil.
Despite the success of the protests, Baroness Miller highlighted that the victory of these women became an exception that confirmed the rule in the UK post-Cold War parliamentary climate. "When this issue is debated [in parliament] we are still hearing the sorts of comments that were made in the late 1980s" Baroness Miller remarked, before connecting this lingering military mentality to the equally lingering patriarchal notions of women's naivety and inability to grapple with the 'real' issues facing international security politics. 
"As a woman speaking on these issues, you face far more accusations of being naive, of being unrealistic and simply idealistic, and the typical comment will be: well, it takes a military realist to understand that [nuclear weapons] unilateralism is not possible."
Baroness Sue Miller, PNND Co-President and Vice-Chair of the UK All-Party Parliamentary Group on Global Security and Non-Proliferation.
The panel's second speaker, Ms Nico Edwards (Sweden/UK)- PNND GPS Program Officer and Youth Fusion Co-Convenor - built directly on Baroness Miller's points, highlighting the opportunity brought about by the Covid-19 pandemic to challenge the illusion of military realism.
Ms Edwards drew out three key factors that together can create the conditions and provide the tools for shifting security dialogue and policy within the nuclear armed and allied states: 1) applying feminist approaches to international diplomacy and cooperation; 2) shifting underlying understandings of security away from force and competition based definitions; 3) moving the nuclear weapons and other military industries' money towards sustainable industries and sustainable peace and security initiatives.
"What I wish to achieve by applying a gender lens to international relations is primarily to expose the illusion that deterrence makes us safer ... and that deterrence and the possession of nuclear weapons are considered 'rational' security measures responding to the 'real' threats that derive from an international arena in which interstate competition is simply 'inevitable'. Feminists understood long ago that, just as the power dynamics that we live by today are man-made, they can be unmade."
Nico Edwards, PNND Gender, Peace and Security Program Officer
Sadly, Ms Edwards noted that a significant reason behind why this shift has proven to be so hard fought remains the monetary interests that continue to make a force-based international system a source of profit. "We must promote policy options that prove that it is economically beneficial for banks, pension funds, cities and governments to divest from nuclear and other weapons industries - a turn that has already been taken in some non-nuclear states."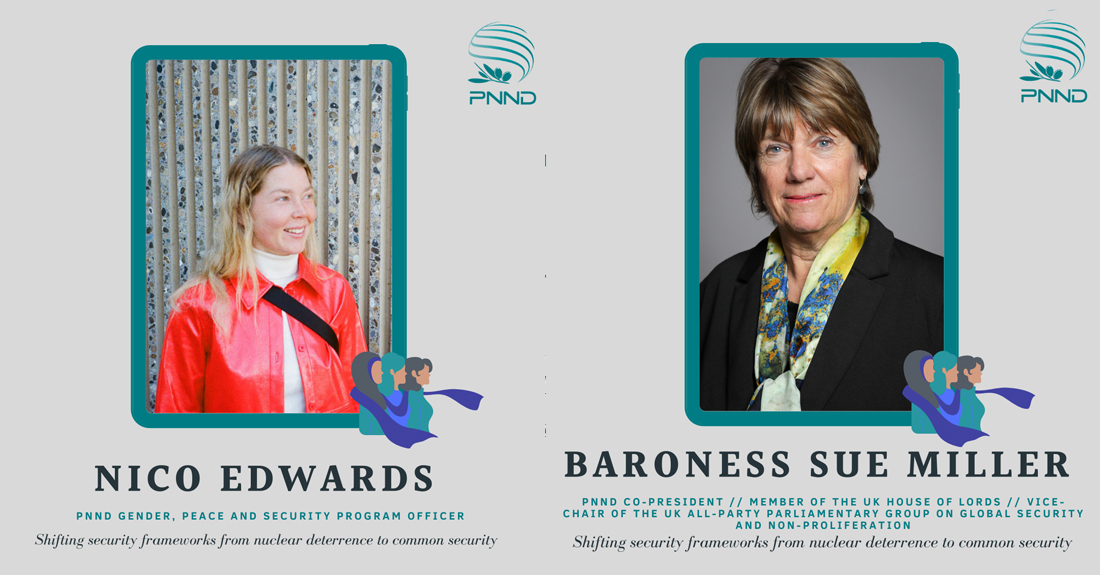 Next in the panel was Ms Yasmeen Silva (US), Partnerships Manager at Beyond the Bomb, a nation-wide US campaign to prevent nuclear war and end nuclear violence. In addressing how to "move from the frameworks that we are in, to the world that we want to see" - Ms Silva noted that,
"The US public has been sold on a very specific view of security and what that looks like, but … Covid-19 has really upended all of those views and exposed how, in this country, we are ill-equipped to deal with the actual threats that are facing Americans today."
Yasmeen Silva, Partnerships Manager at Beyond the Bomb
Ms Silva underscored that women, and in particular women of colour, have been most impacted by the pandemic, and the priorities that the US continues to privilege based on obsolete definitions of security. Yet, she went on to point out that we, because of these factors, in the current moment have a unique opportunity to lay bare why nuclear weapons do not keep us safe.
"As we move into this new administration, we are presented with a unique moment to pull ourselves back from the edge [exacerbated by the policies under the Trump administration], and set ourselves on a new path." Ms Silva envisions this path as one that puts human security needs first, and which, by so doing, opens the door for common security frameworks to be implemented as well. The pandemic has furthermore created renewed energy around the importance of government budget decisions.
"This is a moment to engage with the idea that budgets are moral documents. … And, something that is really important in my work is to take a lens that puts the most vulnerable first, and finding solutions to the interconnected problems that create that vulnerability in the first place."
Yasmeen Silva, Partnerships Manager at Beyond the Bomb
Panel 3: Nuclear Disarmament and Grassroots Action - The Role of Faiths in Promoting Disarmament
The third panel switched focus, turning from the emphasis on policymaking and advocacy on the parliamentary level, to address the role of grassroots action and faith-based movements in promoting nuclear and general disarmament. First out to speak was Ms Monica Willard (US), Representative to the UN for the United Religions Initiative (URI) and Co-Chair of the International Day of Peace NGO Committee at the UN. Ms Willard started off by introducing the URI, which brings people together from over 108 countries in so-called cooperation circles consisting of people from at least three distinct spiritual traditions. Drawing on this work, Ms Willard went on to turn things on their head: 
"I am going to look at [the nuclear issue] from a different perspective. We have talked about the parliamentarians, we have talked about the activists - but one of the things that the inter-faith and religious representatives bring to the table is the spirit: the spirit of peace and the spirit of cooperation." 
Monica Willard, UN Representative for the United Religions Initiative and Co-Chair of the International Day of Peace NGO Committee
Interfaith groups bring with them and apply to the anti-nuclear debate specific religious documents, where for instance many protestant traditions as well as the current Pope, have come out strongly against the possession and use of nuclear weapons. Ms Willard thus called for a comprehensive and immediate shift of spirit to instead give the humanitarian spirit a seat at the decision-making table, emphasising how nonsensical our continued reliance on nuclear weapons is four whole decades after Mikhail Gorbachev and Ronald Reagan jointly confirmed that a nuclear war can never be won, and must never be fought. 
"Nobody really talks about how many people were vaporized when we dropped atom bombs on living cities. … But we need to look at what happened, because today's weapons are significantly more potent than the ones dropped in 1945. Can anybody with a sane thought think that this is safety?"  
Monica Willard, UN Representative for the United Religions Initiative and Co-Chair of the International Day of Peace NGO Committee
The panel's second speaker, Ms. Lejla Hasandedic-Dapo from Bosnia and Herzegovina, is the Europe Liaison Officer for URI and a board member of the European Interfaith Youth Network. She continued in the same vein as Ms Willard and pointed out the importance of interfaith communities and their vast influence as 80% of people around the world are connected to some form of spiritual or faith based belief. Therefore, Hasandedic-Dapo stated that such interfaith communities, as they intrinsically promote peace, are important players in nuclear disarmament.
Youth are another group that are key players as they are the biggest age group in the world. Hasandedic-Dapo emphasised the importance of education as a vital tool in nuclear disarmament as young people, who are knowledgeable on such issues, will educate their friends, parents and wider community. 
"The promotion of dialogue is essential, because when we all become one, when we all meet each other, it is hard to have enemies."
Lejla Hasandedic-Dapo, Board member of the European Interfaith Youth Network.
Hasandedic-Dapo further stressed the importance of getting young people to listen to the personal stories of people affected by nuclear detonations. In this light, Hasandedic-Dapo stated that intergenerational dialogue is also important as the transgenerational transmission of learning and trauma can help the newer generation to understand these issues better and promote a more peaceful world.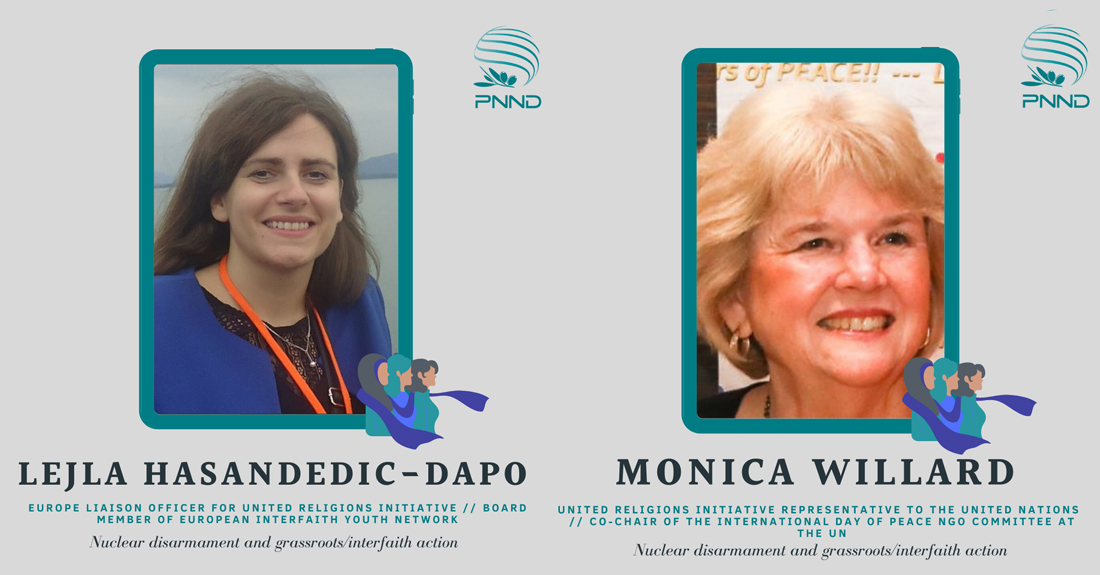 Panel 4: Disarmament and Sustainability
The final panel focused on the links between (nuclear) disarmament and achieving a more sustainable world. The first speaker of the final round was Hawaii-based Ms Cynthia Lazaroff, a filmmaker and founder of the Nuclear Wake Up Call and Women Transforming Our Nuclear Legacy projects. Ms Lazaroff started by highlighting the importance of intercultural dialogue and women and the whole civil society "building our own table where there was place for everyone" already during the Cold War. She continued by sharing her chilling experience of receiving the infamous 2017 false emergency alert of a ballistic missile threat. From her speech, all participants were reminded of how interconnected everyone and everything on this planet is. 
"As an exchange student in Leningrad in 1978 I made many dear friends … and there was just this huge disconnect between my love for my Russian friends, and the thousands of nuclear weapons our countries had pointed at each other. We all wanted peace, and none of us wanted to die in a nuclear war."
Cynthia Lazaroff, filmmaker and founder of Nuclear Wake Up Call and Women Transforming Our Nuclear Legacy.
Ms Kehkashan Basu, Founder of Green Hope Foundation, Member of the World Future Council and UN Human Rights Champion, concluded the event's list of distinguished speakers. Ms Basu emphasized that both the lack of peace and climate change affect women and girls disproportionately. Therefore, to create a truly equal world, all issues of sustainable development must be addressed: from nuclear disarmament to biodiversity protection. Finally, Ms Basu shared that to her, peace is about environmental protection, children education, compassion and empathy. From that viewpoint, it is clear that women are natural peacebuilders. 
"Being compassionate is being powerful."
Kehkashan Basu, Founder of Green Hope Foundation, Member of the World Future Council and UN Human Rights Champion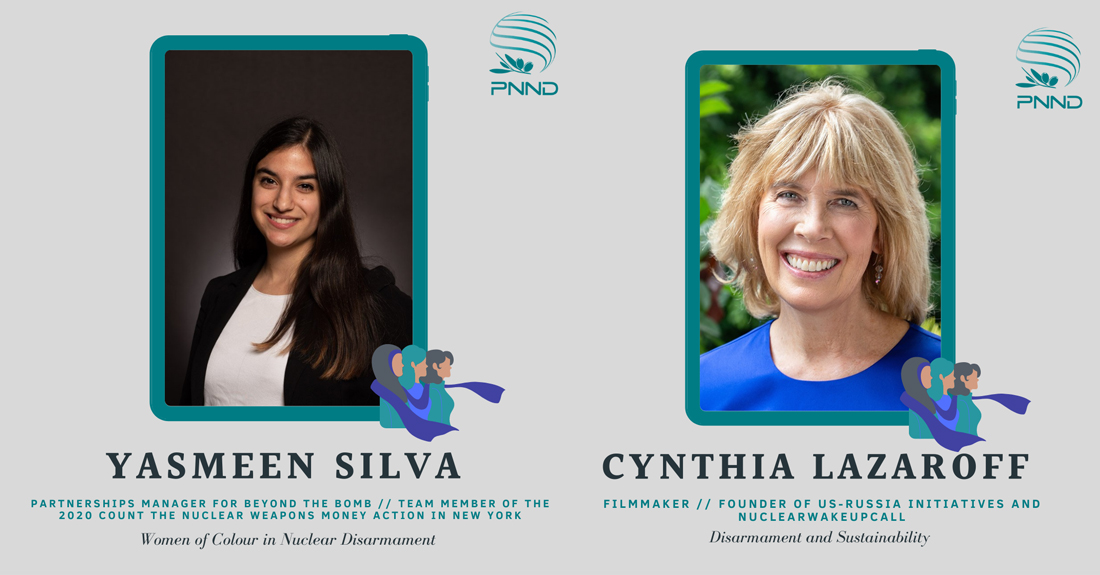 Connect with the PNND Gender, Peace and Security program
If you would like to learn more about or get into contact with PNND's Gender, Peace and Security team, don't hesitate to drop us an email! 
If you are interested in learning more about the activities of each organiser, check out the following websites: Parliamentarians for Nuclear Non-Proliferation and Disarmament; World Future Council; Abolition 2000 Youth Network and Youth Fusion. 
Following on from the various panels, also check out: Move the Nuclear Weapons Money; UN Human Rights Committee Comment Nr. 36 (2018); International Court of Justice Advisory Opinion on the Legality of the Threat or Use of Nuclear Weapons (1996).